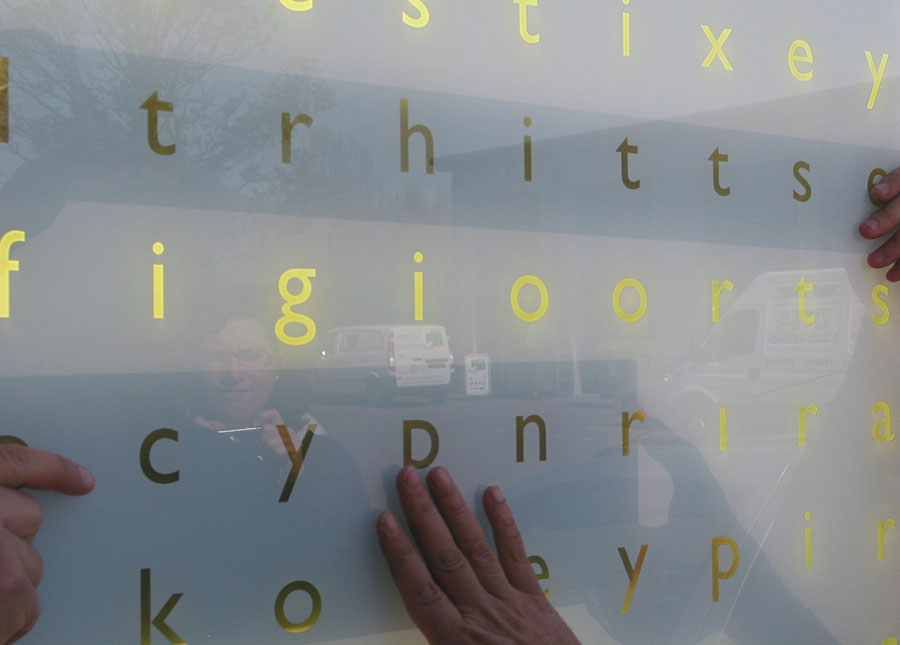 Wall of Letters is the design for a permanent work commissioned by Land Securities with Christ's College Cambridge. The work involves examining the nature of public and private space in the specific site of Christ's Lane in the city centre of Cambridge where the wall is sited. It reflects the scholarly activities on one side of the lane – in Christ's College's old and new libraries – and the daily exchanges that occur in this public thoroughfare that links Cambridge bus station and Christ's Lane (formerly known as Bradwell's Court).

Wall of Letters is a large glass wall (6m at its highest point and 45 m long) that is covered in almost 32,000 individual letters that form a word search containing 6000 words. I gathered individual stories and memories from people who live, work and pass by Christ's Lane through postcard and online correspondence, workshops, conversations with individuals and groups, as well as archive research. The texts were then selected and broken down into lists of individual words. A specially designed computer program was developed in order to generate the giant word search and its component letters.

At night up to 100 words can be lit up. Each night a different combination of words is highlighted, animating the wall and its hidden stories. I worked closely with architects Panter Hudspith, lighting designers BDP, engineers Ramboll Whitbybird and commissioning agents InSite Arts on the complex design of this work.